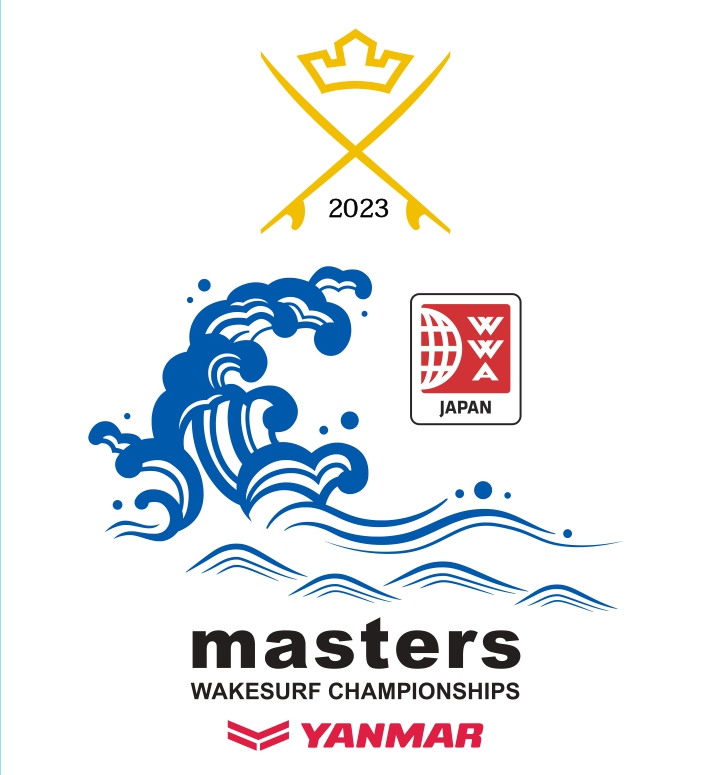 Tournament information
Event Name:2023WWA JAPAN MASTERS WAKE SURF CHAMPIONSHIP Presented By AWSF
Event Dates:Nov/18-19/2023 ,Nov/16 LCQ
Venue​ Information:YANMAR Sunset Marina 1380 Mizuhocho, Moriyama, Shiga, Japan
Organizer
WWA JAPAN
Sponsorship
Yanmar Marine International Asia Co., Ltd.
YANMAR Sunset Marina
Okanami General Hospital
KANUK JAPAN
Accreditation
World Wake Association
JAPAN WAKE SURFING ASSOCIATION
ASIA WAKE SURFING FEDERATION
Cooperation
Japan Wake Surfing Association
JWSA Annual Recognition
The winner of each division of this competition will be awarded as the 2023 champion.
Division
Girls & Jr (15& Under) SKIM
Girls & Jr (15& Under) SURF
Women's (16-34) SKIM
Women's (16-34) SURF
Master's Women (35 – 54) SKIM
Master's Women (35 – 54) SURF
Veteran's Women (55& Over) SKIM
Veteran's Women (55& Over) SURF
Open Women (Any Age) SKIM
Open Women (Any Age) SURF
Women's Professional SKIM
Women's Professional SURF
Women's Beginner (Any Age) SKIM
Women's Beginner (Any Age) SURF
Boy's & Jr (15& Under) SKIM
Boy's & Jr (15& Under) SURF
Men's (16-39) SKIM
Men's (16-39) SURF
Master's Men (40-54) SKIM
Master's Men (40-54)SURF
Veteran's Men (55& Over) SKIM
Veteran's Men (55& Over) SURF
Open Men (Any Age) SKIM
Open Men (Any Age) SURF
Men's Professional SKIM
Men's Professional SURF
Men's Beginner (Any Age) SKIM
Men's Beginner (Any Age) SURF
Adaptive Standing
Adaptive Sitboarding
Foil
Eligibility
Athletes who are regular JWSA members in 2023 (those who have registered and paid membership fees by November 15, 2023) and participate in JWSA official tournaments.
In addition, this year, we will hold an LCQ for players who are full members but have not participated in official competitions, providing a wide range of opportunities to participate.
JWSA official tournament
AprilJapan Boat Wave Surfing in Lake BIWA
MayWorld Wake Association JAPAN WAKESURF OPEN PRESENTED BY YANMAR
November Japan Boat Wave Surfing in Lake BIWA Round 2(undecided)
For entry
Entry Fee
Professional 20,000yen
General 12,000yen
LCQ 10,000yen
Tournament prize money
Pro
Men 1st 50,000 yen
Men 2nd 30,000 yen
Men 3rd 10,000 yen
Pro
Women 1st 30,000 yen
Women 2nd 20,000 yen
Women 3rd 10,000 yen
Reception period (final round)
September 1, 2023 (Fri) to September 30, 2023 (Sat)
Acceptance period (LCQ)
August 17, 2023 (Thu) to September 10, 2023 (Fri)
How to Entry
Starting with this tournament, the payment method for the entry fee will change.
Please note that the entry fee cannot be paid on Tournament day by cash.
Entry payments are accepted through the membership fee payment system operated by Metap Payment Co., Ltd.
Payment will be made by credit card.
Only those who have completed member registration on the JWSA website can participate in the tournament.
For tournament entry and payment, please register below.
competition rules
Complies with WWA rules.
Choose from the following depending on the weather; we will make an announcement in the morning of the day.
The course has 2 passes, each pass is 45 seconds at 11.2 mph.
Riders are allowed 1 pickup (2 falls) per pass.
The course is 1 pass, 11.2 mph, 60 seconds.
Riders are allowed 2 pickups (3 falls) between passes.
Please refer to the WWA rules.
Depart from the marina pier, wait on the pontoon on the lake, and compete.
Request from Yanmar Sunset Marina
Please observe the following in accordance with the user rules for Yanmar Sunset Marina.
◎ No smoking except in designated smoking areas
◎The use of skateboards in the marina is prohibited.
◎No swimming in the marina
◎No fishing in the marina
◎If you bring your pet into the marina, you must wear a leash.
◎If you have a tattoo, we will ask you to wear a jacket in the marina.
Participating players, contract matters
Athletes entering this competition must agree to the following pledges regarding participation in the competition before entering.
The event organizer will be deemed to have agreed to the pledges at the time of accepting the entry.
(If the player is a minor, the parent/guardian should make the decision.)
Comply with tournament rules and manners when participating in the tournament.
Make sure to manage your physical condition well during the tournament, and make the decision to participate by yourself.
Participants may be refused entry to the tournament due to their health condition on the day of the tournament.
Do not make any claims to the event organizers, sponsors, or sponsors, and do not cancel them.
Strictly follow the guidelines based on measures to prevent the spread of infectious diseases.
Please agree to the handling of images and videos and portrait rights.
If you enter the competition and show your intention to participate, it will be considered that you have accepted the following matters.
WWA, JWSA, and AWSF will use the images or videos of participating athletes and spectators for the following shooting conditions and purposes, and will own all portrait rights.
We will strictly manage and ensure that personal information will not be used for purposes other than those listed below.
Using images or videos of games and events in which WWA, JWSA, and AWSF participate in PR activities (posters, websites, and other promotions) conducted by WWA, JWSA, and AWSF
Use of images or videos taken of activities such as games, tournaments, and events in which WWA, JWSA, and AWSF participate for promotional purposes by tournament organizers
Entry fees and membership fees will not be refunded for any reason. Please be aware in advance.
If you have any corrections such as the name of the race list, please send an e-mail to the secretariat below.
Tournament day
Please check the departure schedule for your own pier departure time.
Please meet near the pier 30 minutes before your departure.
The progress of the tournament may be sped up. If you are absent at the pier roll call, you will be disqualified.
The time may change depending on the weather on the day.
Schedule
Details will be announced as soon as they are decided.
Public holiday request
If you would like to apply, please email the association.
Deadline September 30th
Contact Us
2023WWA JAPAN MASTERS WAKE SURF CHAMPIONSHIP Presented By AWSF Preparation Room
Inside the JWSA Secretariat (info@japan-wakesurfing.com)
Miscellaneous
Details will be updated as soon as they are decided.
We are looking forward to meeting you.
Thank you
July 2023